10 CGPA In Class 10
The student of Chhattisgarh Public School have perform commendably in the SSC examination 2017 conducted by CBSE .The students prove their mettle by giving 100% result in the board examination. Out total 105 registered students 11 students came out with flying colors achieving 10CGPA result. 20 students got CGPA 9.8 to 9.4 . 21 students got 8.4 to 9.3 CGPA .Out of total 105 registered 103 students got 1st Division.
List of students bagging 10 CGPA in SSC Examination is as given below
Aanchal Sahu Trishika Verma Garima Singh Shubham Prasad Gagandeep Kaur Arwinder Singh
Anugamini Tirkey Pooja Yadav Yogesh Motwani Akshat Shrivastav Kashish Agarwal
List of students who got 9.2 to 9.8 CGPA are as follows.
Sushmit Mukhrjee Pinky Jethani Shubham Singh Alok Raj Abhishek Mishra Aryan Dash
Divya Sharma Namita Tondon Himnandini Shishir Shreya Paikra Hitesh Bhagel
Sourabh Singh Yuvrag Singh Sharon Singh Ayushi Verma Jasmeet Kaur
The patron of school Smt.Satyabala Agarwal Ji blessed the students for their excellent achievement and congratulated staff for their efforts.
The Chairperson of School Mrs.Jyoti Agarwal Ji was overwhelmed with the performance of the students and praised the efforts of the teaching staff for such splendid result.
The Principal Mr.Rakesh Chaturvedi congratulated the students and staff for their relentless efforts to bring laurels to the school and wished them best of luck for their future.
Class 12th CBSE board Examination result 2016-17
The student of Chhattisgarh Public School have perform commendably in the AISSCE examination 2017 conducted by CBSE .The students prove their mettle by giving 100% result in the board examination.Out total 76 registered students 21 student got 75% and above result and 19 students got 80% and above result. Out of 76 registered students 36 students got 1st Division.
Akshat Gupta
Neha Vashist
Astha Mudgal
Mst.Akshat Gupta with 95% came out as school topper he got 95 marks in English , Maths & Chemistry, 94 in Physics & 96 marks in physical education setting new bench mark. Neha Vashist scored 93% with 95 marks in Maths and Physics and 94 marks in chemistry. Astha Mudgal of Bio stream topped with 86% with 95 marks in Biology. Out of 76 students 26 students bagged 94 to 96 marks in different subjects.
Achievement
Students of CPS not only Excel in School but bring laurels to school in Inter-School, State and National level activities also. They proved their metal in various sports ,cultural and literary activities viz:-
Sports provide a healthy outlet to channelize the extra potential of students in a positive manner. They are synonymous to leadership, determination, decision-making collaboration and detach the values of sportsmanship and teamwork. Our students display their sporting powers by participating in various national, state, district and zonal level competitions along with school sports activities with unbridled enthusiasm.
It was indeed an inspiring and enviable moment when following students of our school got selected in different sports activities as:
(a) CPS kho Kho Team qualified for CBSE national Meet in their first participation in CBSE national games. They Bagged gold medal in cluster meet and qualified for nationals.
b) Geetanjali Bharadwaj of class-10 was awarded best runner of tournament in CBSE cluster Kho-Kho games and PhalTandon was awarded best Defender of the tournament.
2)Pooja Kodape of class-10 participated in national athletics tournament held at BemataraChhattishgarh. She won Gold medal in Cluster meet and qualified in nationals.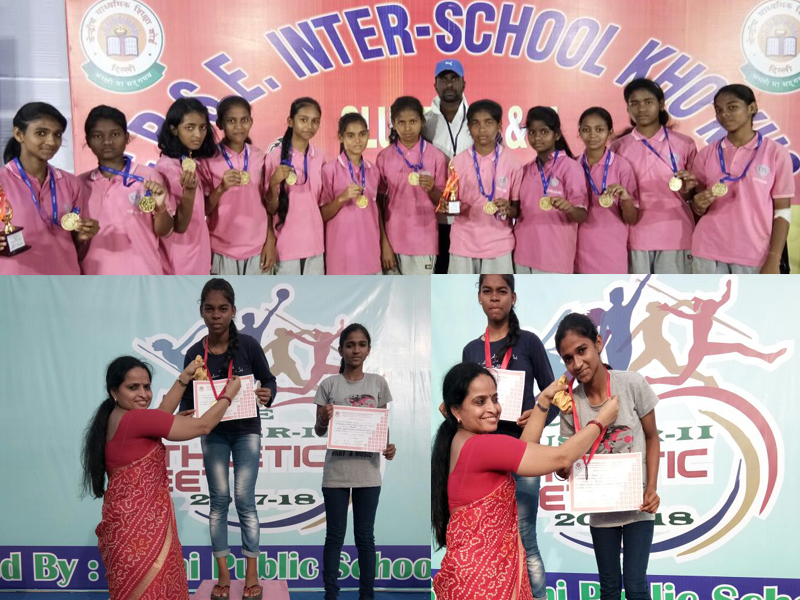 3) ManpreetKaur of Class-12 Arts is selected in Central Zone U-19 BCCI Women's Cricket team for zonal level womens cricket tournament.
4) Piyush Singh is selected in U-19 School state-level cricket tournament organized by department of education Chhattisgarh.
LalitSahu of class-10 got selected in U-16 school state-level cricket tournament organized by department of education , Chhattisgarh.
Students of CPS took part in various inter school activities in the session and proved their metals in different activities viz:-
The students of Cps in dance competition got first prize at Brighton, KPS school Dunda and sarona Rotary Club competition.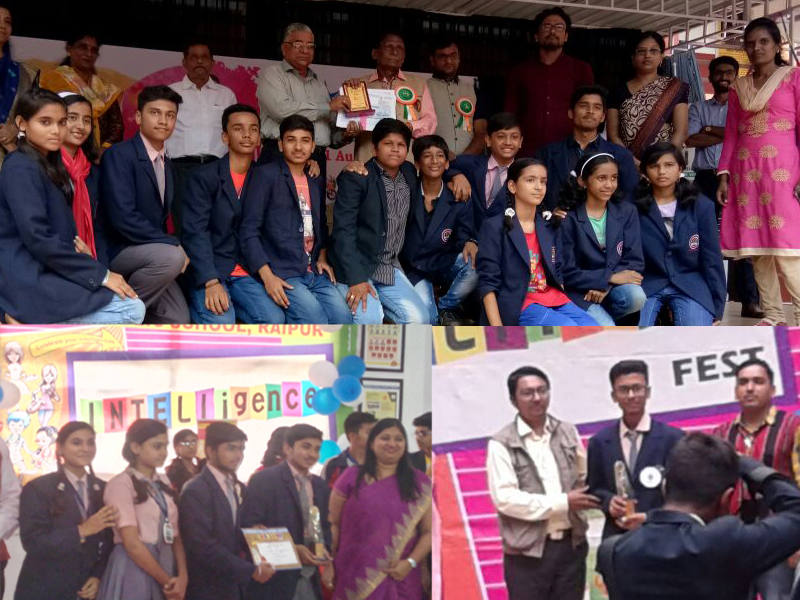 Sumansarvodaysahu of class-5C got 2nd prize in drawing competition at KPS sarona.
Kumar Adeash of class-10 got 2nd prize in play the music at Mac college Rotary function competition and in snapshot at KPS Dunda.
Mahak Shrivastav (9th), Prathom Tandon (11com), Rritika Lalwani (9th) & Dharmendra (8th) got 2nd prize in Drama at KPS,Dunda
.
Anukritishrivastav of class-7B got 1st prize in Speel bee and story writing at KPS sarona and Mac college in Rotary Function competition

.
Tripti Panda of Class-8B got 1stprize in spell bee at KPS sarona.
K PoonamPatro of class-4B got 2nd prize at KPS Sarona in poem recitation.
Padma Behore of class-9 got 1st prize at KPS saronain debate competition.
SanskarShukla of class8th A got 2nd prize in brain Teazer in KPS Dunda
In HTML coding prog. At KPS Dunda , Rudranshi kashyap of C-8th B got 2nd prize
Vaibhav Prakash of 7A got 2nd prize in story writing at Mac college in Rotary Function competition