SOLO SONG / DANCE COMPETITION
"Dance and song is the most enthusiastic and expressive means to shower and adhering to its long/lasting impact a oneself solo song/solo dance competition was organized on the month of July for Group 3 and Group 4 students.
Irrespective of the student aims to be an artist in future or not a mere dance/song competition helps to develop various skills in a child that will be useful in the long-term. It enforce kids to gain emotional strength and to accept criticism and rejection gracefully .It increases self confidence and self esteem in children. It helps kids overcome stage fear and face audience without any anxiety.
Group 3 (Solo Song Competition)-
Winner :-Pratik Anurag -8B –Eklavya, Runnerup :- Lemesh Bisen -8b-Eklavya
Group 4 (Solo Song Competition)-
Winner:-Ekta Seth -12th comm.-Arjun, Runnerup :-Muskan Singh -10A-Eklavya
Group 3 Solo dance Competition –
Winner : Ridhi Pashine 6th A Aaruni, Runner up: Suman Sarvodaya Sahu 7th C Aaruni
Group 4 Solo dance Competition –
Winner : Aastha Shrivastava 12th Comm Aaruni, Runner up: Anshika Taunk 9th A Aaruni
Rakhi Making
It was a day when CPS students turned into little artisians.
Group 1
Winner:- Vedanshi Das -2B
Runnerup :-Ridhi Johri -2A
Group 2
Winner :-Aanya Garg 4B
Runnerup :-Jaskirat kaur 5B
Group 3
Winner:- Riya Sahare 8A
Runnerup:- Chesta Yamraj 7C
Debate Competition
These photos are of hindi debate inter school competition comprising classes 6 to 8. & 9 to 12.
Group -3 ( Classes 6 to 8), Total participants in 12
Winner - Rimsha siddique, Runner-up - B. Chithvilas
Group -4 ( Classes 9 to 12), Total participants 10
Winner - Vikas Pandey, RunnerUp - Vaibhav prakash
Krishna Janamashtami
Janmashtami is celebrated as the birthday of Lord Krishna, one of the most powerful and famous reincarnations of Lord Vishnu.
To seek the blessings of lord Krishna Janmasthami was celebrated at CPS on 23rd August with mirth and joy. The students from KG to class 8th dressed up as lord Krishna and Radha complete with flutes, peacock feathers and matkas. The premises were decorated beautifully and the spirit of festivity was enhanced with Jhankis depiciting life history of Lord Krishna.
The Principal of the school Mr. Rakesh Chaturvedi blessed all the students on the auspicious day and gave them the message as always looking ahead instead of reminiscing in the past. His words truly summed up the efficacy of celebrating festival of Janmashtmi.
On the occasion of Krishna Janamashtami, Class 8 a performed a special assembly based on it. 2 students dressed up as Radha and Krishna. Rest team shared amazing facts, GK questions and speech on Krishna Janamashatami
Sanskrit Shloka chanting
These photos are of middle section & senior secondary section. The competition was interhouse.
Group 3 ,Total participants 23
Winner- Shrishti Singh, RunnerUp - Suman Sarvodaya
Group 4, Total participants 7
Winner - Vaibhav Prakash , RunnerUp- Vikas Pandey
Independence Day Celebration
¨
To make the young generation realize the importance of freedom and to memory of forgotten martyrs, Independence Day is celebrated. Paying tribute to the freedom fighters and acknowledging their precious contribution in liberating India is the primary concern of such celebration. Speeches, dances, songs, plays and a march past are the activities performed by the students on the day.
Literary Activities
SELF INTRODUCTION AND Speech Competition:
Confidence adds glamour to the personality of an individual. So, to enhance the confidence and ability to speak constructively and at a glance, Self Introduction competition was organised in the month of July for classes 3to 5 and speech competition for classes 6 to 12.
Handwriting Competition:
It has been said that handwriting is the mirror of one's personality. Good and effective handwriting always leaves a mark on the reader. Handwriting competition was conducted in the month of April to make the students realize the importance of neat and presentable handwriting.
RECITATION COMPETITION /KAVITA VACHAN COMPETITION:-
To enhance the speaking skills in students different activities are organised. Recitation /Kavita Vachan competitions was organised in month of Oct. and Nov. in which students participated with great zeal.
Story telling:
Stories not only attract kids but youngsters too. Story telling is an art which make the students a good narrator. It may sound simple but it is a technique in itself which enhances the skill of narration and help students in being an effective orator. Overwhelming response from the students made it the most successful event which was conducted in the month of Nov.
SCIENCE EXHIBITION:
To bring out the innovation and to explore the interest of students in research and new ideas, science exhibition (Nirman) was organised in the month of July for all classes . Participation of students was overwhelming in it.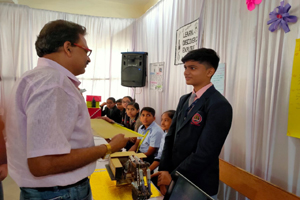 Cross word puzzles and word building competition:
In order to enhance the word power and enrich the word bank of students cross-word puzzles and word building competition was organised in the month of July and October in which students participation was overwhelming
SCIENCE QUIZ
Science quiz was organised in the month of November for classes 6 to 12 to explore their scientific temperament.
CPS Master Chef
Master Chef Competition:- fireless cooking
The master chef competition was organized on the month of august for Group 2 Group 3 and Group 4. The activity enhance the students aware of healthy eating habits further, the activity also helped them to know about various cuisines around the world. It further honed their culinary skills and they learnt how to calculate nutritional value of their dish on their own they also leant the importance of working without littering.
G2
Winner:-Rashi Singh- 5A- Aaruni
Runner Up:-Aanya Garg -3B-Eklavya
G3
Winner: - VISHESH AGARWAL -8C –EKLAVYA
Runner Up:-Swastika Mishra -6C-Aaruni, Upasana Sadhukhan-6C-Aaruni
G4
Winner:- Devika Dewangan -12 comm. Eklavya
Runner-up :- Aryan Bansal -10A-Eklavya, Pratyush Shrivastava-6C-Aaruni
Excella fest & Late Dr.RamavtarAgrawal memorial Inter-school Science, Commerce and Arts exhibition
Excella fest&Late Dr.Ramavtar Agrawal memorial Inter-school Science, Commerce and Arts exhibition:
5th Inter-school literary and cultural meet EXCELLA FEST and 6th late DR. RAMAVTAR AGRAWAL JI MEMORIAL SCIENCE EXHIBITION was organised on 21and 22 of October in which 21 schools from Raipur,durg and near by districts participated making it a grand gala. The meet included various activities like drawing,painting,debate,recetatioin,Sudoku,face-painting, solo and group song,Group dance etc Late Dr. Ramavtar Agrawal memorial inter-school and school level science, commerce and arts exhibition was organised by Chhattisgarh Public school on 122ndof October in which schools from all the corners of city participated. In science category students of our school Anshita Raj Verma and Anoop Verma of Class-11th bagged first prize in which they were awarded cash prize of 2500 Rs and Dr. Ramavtar memorial Trophy. Runner –up were Avijeet Tiwari and Dev Sachin Pandya of Class-X from Gujrati English Medium School were honoured with cash prize of 1500Rs and Trophy.
SELF INTRODUCTION AND EXTEMPOR
Confidence adds glamour to the personality of an individual. So To enhance the confidence and ability to speak constructively and at a glance, extempore competition was organised. These photos are of English speech and self introduction comprising middle & senior secondary section. These events help the students in identifying their strength and weakness and help them learn English correctly and effectively. Students understand concepts better through visualization also it has a lasting impact.
Sports Day
Annual Sports Activities
Sports provide a healthy outlet to channelize the extra potential of students in a positive manner. They are synonymous to leadership, determination, decision-making collaboration and detach the values of sportsmanship and team work. Our students display their sporting powers by participating in various national, state, district and zonal level competitions along with school sports activities with unbridled enthusiasm.